High-Tech Door Entry Systems
If you're interested in installing any of these door entry systems in Chicago, Illinois, SkyNet Security Systems is the company to call.

If you want the absolute best security for your commercial property, you should consider implementing a high-tech door entry system. These modern systems offer the best in terms of access control, entry monitoring, and even remote accessibility.
If you're looking to ditch the keys and upgrade to something more versatile, these door entry systems will serve you well. We offer a range of door entry systems in Chicago, and our experts can install them for you in a secure and proper manner. Ready to update your door entry system? Here are some things to consider:
How to Pick the Right Door Entry System
Picking the right door entry system for your Chicago business is vital, as it will affect the access control capabilities of your property for years to come. When looking, you should consider the following factors:
Gain Entry with an Assortment of Mobile Accessories
Convenience:

When it comes to door entry systems, convenience levels can vary. Whereas biometric systems can automatically gauge your biological features and allow access, FOB systems require you to touch your FOB or proximity card against an access panel. You'll want to consider your convenience needs and choose accordingly.

Security Needs:

Not all door entry systems provide the same level of security. At the same time, not all buildings have the same security needs. When choosing a door entry system for your Chicago building, you should choose one that accommodates your specific needs.

Integration:

In some cases, it's necessary to integrate your door entry system with other security entities. For instance, you might be interested in integrating your entry system with CCTV. If so, you'll want to choose an entry system that aligns with your purposes and goals.

Budget:

Door entry system prices can vary based on several factors. In any case, you should choose a system that fits your budget. If you're curious about pricing, you can always get in touch with our staff to discuss.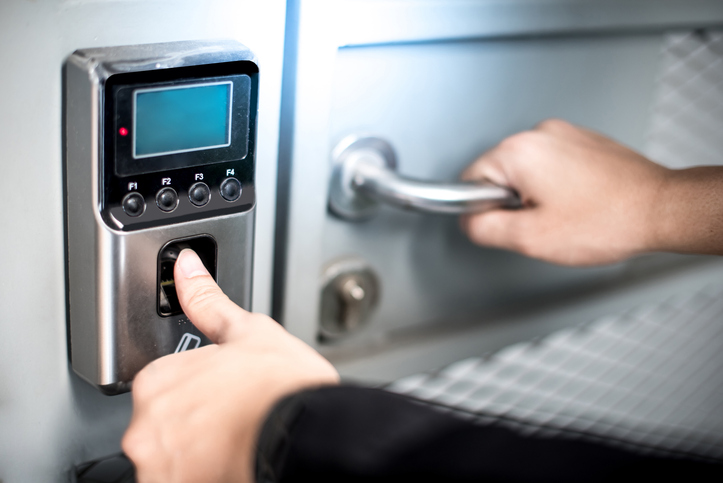 Keep Your People,
Property and Assets
Safe and Secure
Types of Door Entry Systems
There are several different types of door entry systems available. The primary types include the following:
FOB Systems:

FOB systems make use of an access accessory — such as a FOB device or a proximity card — as a means of allowing access to certain individuals. This accessory is scanned by an access panel, which then communicates with an underlying database and either grants or denies access.

Keypad Systems:

Keypad systems require users to enter a passcode to gain entry. These systems can be programmed to allow many different passcode combinations, and they can be used for buildings of all sizes.

Biometric Systems:

Biometric access systems make use of an individuals' biological characteristics to determine whether to grant them access. These characteristics vary from facial features to fingerprints to vocal tone and more.
Ready to Install a New Door Entry System in Chicago, Illinois?
The door entry systems reviewed above are not just beneficial in the sense that they eliminate the need for physical keys. They're also beneficial in their ability to alter access control and make changes from remote locations.
If you're interested in installing any of these door entry systems in Chicago, Illinois, SkyNet Security Systems is the company to call. We have installed door entry systems on countless Chicagoland buildings, and we can do the same for yours. Contact us today to request a free quote.
Contact us now to learn how we can help.
Related News & Insights
The latest Access Control news from Skynet Security