Alarm Systems in Chicago, Illinois
If you're looking for alarm systems in Chicago or the Chicagoland suburbs, we're the company to call.
Whether it's a store, an office building, or some other commercial property, having an alarm system is key. Alarm systems help to prevent theft, stifle shoplifting, and make individuals think twice about damaging your property. In doing so, alarm system can end up saving you substantial amounts of money and stress.
At SkyNet Security Systems, we offer all sorts of alarm systems. If you're looking for alarm systems in Chicago or the Chicagoland suburbs, we're the company to call.
We are leaders in access control, video security, and intrusion detection—and we have years of experience in bringing these all together into seamlessly integrated, converged solutions for our customers.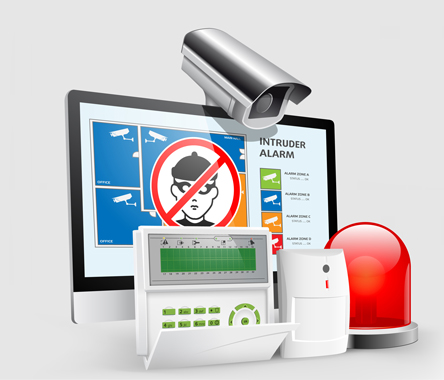 Keep Your People,
Property and Assets
Safe and Secure
All Types of Alarm Systems to Choose From
We offer a wide variety of alarm systems, each of which possesses its own unique features. Some of the different types of systems available include:
Door/Window Alarms
Do you want an alarm to sound every time someone enters or exits your property through a door or window? If so, a door/window alarm will suit you well. These alarm systems go off whenever a specific window or door is opened. Just set up the appropriate parameters and your property will be good to go.
Glass Break Detection Alarms
Breaking and entering isn't exactly uncommon in Chicago. As such, it's wise to equip your property with a glass break detection alarm. These alarms go off the second that glass is impacted, scaring away potential intruders, and saving you substantial amounts of money in the process.
Motion Detection Alarms
In high security areas, it might be a good idea to make use of motion detection alarms. These go off whenever movement is detected. They're often used on the interiors of properties, and they are great for protecting specific valuable items.
Property-wide Alarm Systems
Are you interested in establishing an alarm system that covers your entire property? If so, we can help. We can assess your entire property and devise a plan of action to best suit your security needs. Whether it's a factory, warehouse, office, or otherwise, we can accommodate you.
Real-time Monitoring and Notification
If you wish, you can combine your alarm system with a real-time monitoring and notification system. This will keep track of your alarms and will notify you and the authorities every time they are set off.
This feature allows you to react to intrusions the minute they happen. The faster you react, the better chance you have of neutralizing the problem.
Give us a call to learn more about how our monitoring systems can benefit your Chicagoland business.
Real-time Monitoring and Notification
Installing an alarm system isn't a simple task. If you're going to do it, it's strongly recommended that you work with a professional installer. Here in Chicago and the Chicagoland suburbs, there are all kinds of alarm systems installers, but the best is none other than SkyNet Security Systems.
We have installed alarm systems in countless properties throughout the Chicagoland area, from residential buildings to office buildings to warehouses to schools and more. With several types of alarm systems to choose from, we're sure to have something that suits your property.
Contact us today to discuss your options or schedule a security assessment.
Related News & Insights
The latest Alarms & Monitoring news from Skynet Security