Intercom Systems
We sell and install a wide range of intercom systems in Chicago
Intercom Systems in Chicago, Illinois:
What Are Your Options?
When allowing someone access into your building, it's good to know who you're dealing with. This is where intercom systems come into the picture. With an intercom system on your side, you can vet every person that comes to your door.
Here at Skynet Security Systems, we sell and install a wide range of intercom systems in Chicago, and we can also repair any existing intercom system. Whether you want an audio-only intercom system, an audio-video intercom system, a mobile intercom system, or otherwise, we are the company to call.
Offering installation, repair, and maintenance services, our team knows everything there is to know about intercom systems for buildings in Chicago. Here are some of the most common types of intercom systems we work with:
Wired Intercom Systems
Wired intercom systems are generally more difficult to install than wireless intercom systems. However, despite the troubles with installation, these systems offer increased reliability and increased security. This makes wired systems a great option for commercial properties in Chicago that need to be consistently functional without any downtime.
Wireless Intercom Systems
Wireless intercom systems are relatively simple to install — not to mention, they're more affordable than wired intercom systems. In addition, they can be accessed remotely with the use of mobile apps. One potential downside to wireless intercom systems is that they rely on a wireless connection. This can be a benefit in some cases, but it also means that the system could go down if the connection is spotty.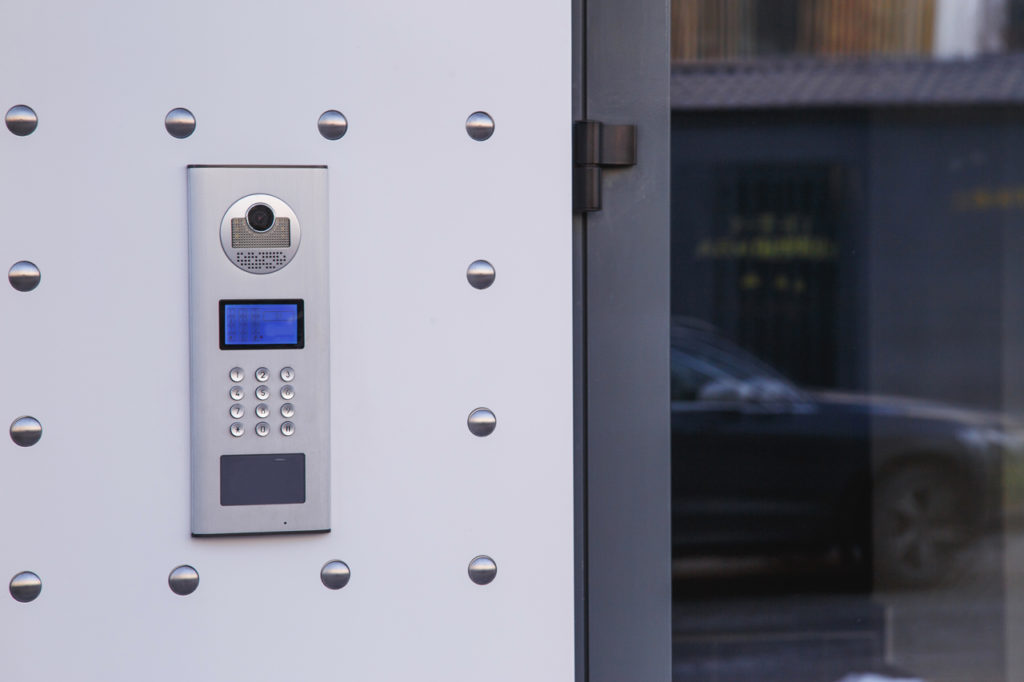 Keep Your People,
Property and Assets
Safe and Secure
A Variety of Intercom Services
Here at Skynet Security Systems, we provide a variety of services for intercom systems in Chicago. These include (but aren't limited to) the following:
Property Assessment:

Every Chicagoland property has different security needs. To help you determine the type of intercom system that your property could benefit from, we can come to your location and assess your property in full.

Intercom Installation:

Connecting an intercom system isn't always easy. In fact, depending on the type of system that you're installing, it can be extremely complex. Our crew is well-versed in all aspects of intercom installation, and we will ensure that your system is installed in a secure and proper manner.
Custom Intercom Services:

We also offer custom intercom services, allowing us to cater to the specific characteristics of your Chicago property and clientele. Regardless of the size and nature of your property, we can accommodate you.

Intercom Repair:

Intercom systems are, in general, quite resilient. In most cases, they won't be deterred by weathering or other forms of wear and tear. That said, they can take on problems from time to time. If you have an issue with your intercom system, we can help you fix it.
Ready to Install an Intercom System in Chicago, Illinois? Contact the Team at SkyNet.
If you're looking to improve the security capabilities of your commercial, residential, or industrial property in Chicago, installing an intercom system could be a great decision. An intercom system enables you to facilitate full communication with those that come to your door. In doing so, they allow you to make informed decisions on who comes into your building.
If you're ready to install an intercom system in Chicago, Illinois, the team at Skynet Security Systems is here to help. We are highly experienced in all facets of intercom system implementation, and we will ensure that yours is installed in the safest and most secure manner possible. Contact us today to get started.
Related News & Insights
The latest Video Surveillance news from Skynet Security