Access Control
We provide a diverse set of access control options and work with you to select the right solution for your project.
Access Control Systems in Chicago, Illinois:
What Is Available?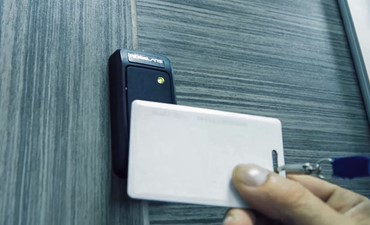 When it comes to the security of a public building, access control is extremely important. You'll want the building to remain as secure as possible, but without compromising on the convenience of access for those who need to get into the building. Access control systems allow you to do just that.
Here at SkyNet Security Systems, we service access control systems for all kinds of commercial and industrial buildings in the Chicagoland area. These buildings vary from schools to hospitals to apartment buildings to workplaces to warehouses and more.
If you are looking to implement an access control system in Chicago, or repair an existing one, SkyNet is the company to call. Below, we're going to provide an overview of some of the different access controls systems we install.
Keep Your People,
Property and Assets
Safe and Secure
A Variety of Access Control Systems Available
We can implement all kinds of access control systems, allowing us to accommodate several different situations. The specific access control systems that we can implement include the following:
Key-free Entry Systems (FOB, keypad, and card):

Nearly all buildings can benefit from a key-free entry system — that goes for apartment buildings, office buildings, gyms, etc. We can implement FOB systems, keypad systems, and card systems.

Remote Systems:

In some cases, it helps to be able to access your security system from a remote area. We offer a variety of remote security systems for Chicagoland businesses, each of which provides you with a great deal of versatility and control.

Cloud Access Systems:

Cloud systems are highly scalable, and they can help your security system to grow as your organization grows. SkyNet has several cloud access systems with different features to choose from, and we can install one for you in a secure and proper manner.

Badge/ID Systems:

If you're looking to improve access to a workplace, specifically, you could benefit from a badge/ID security system. We offer several badge and ID systems, each of which provides different benefits and features. As always, you can get in touch with our security experts to discuss the specifics.
Biometric Systems:

From fingerprinting security systems to facial recognition security systems and more, we're well-versed in the implementation of all kinds of biometric security systems throughout the Chicago area.

Visitor Systems:

Looking for a way to grant and restrict access to your building's visitors? We have systems that can do exactly that. If you own or manage a residential building in Chicago, get in touch with our team to discuss your options.

Turnstile Systems:

Seen everywhere from public transportation centers to arenas and more, turnstile systems are great at allowing access and maintaining order amongst large groups of people.
Improving Access Control in Chicago and Its Surrounding Suburbs
Are you looking to install an access control system in Chicago, Illinois? If so, look no further than the experts at SkyNet Security Systems. We understand the importance of access control when it comes to dense, highly populated areas like Downtown Chicago. Our team has installed, repaired, and maintained countless access control systems throughout the City of Chicago, as well as its surrounding suburbs. We have worked on everything from apartment buildings to educational institutions to medical facilities to office buildings to warehouses and more. We have the expertise to take control of your security implementation project, ensuring that your building has all the features you want it to have. For more information, or to discuss your project, contact us today.
Related News & Insights
The latest Access Control news from Skynet Security