Turnstile Access Control Systems
Here at Skynet Security Systems, we sell and install several different types of turnstiles for properties in the Chicago area.
Turnstile Access Control Systems in Chicago
When it comes to controlling the access of big crowds, few systems are as effective as turnstile access control systems. These systems lock immediately after one person is admitted to an area, ensuring that every person pays his or her way before being granted access.
If you're looking to implement a turnstile access control system in Chicago, there's no better company to turn to than Skynet Security Systems. We've installed turnstiles in countless properties throughout the Chicago area. Whether you're looking to repair, maintain, or install new turnstiles, our team can get the job done right.
A Variety of Turnstiles to Choose From
Here at Skynet Security Systems, we sell and install several different types of turnstiles for properties in the Chicago area. These include (but aren't limited to) the following:
Waist High

Waist high turnstiles in Chicago are often seen in stadiums and auditoriums, though they're sometimes used in other buildings as well. Mechanically operated, they turn and lock after every new person passes through.

Optical

Optical turnstiles make use of infrared technology to detect individuals and determine whether or not they should be granted access. Commonly used in hotels and other upscale buildings, they're aesthetically pleasing and highly functional.

Full Height

Full height turnstiles are six-to-seven feet tall, and they possess metal bars from top to bottom. They're almost impossible to sneak through, and they're commonly seen in high-security structures like prisons and government buildings.
Combining Turnstiles with Other Access Features
Turnstiles work well by themselves. However, you don't have to stop with only turnstiles. You can combine turnstiles with other access features to assemble an even more effective security system for your commercial space in Chicago.
For instance, maybe you'd like to make turnstile admittance dependent on a verified intercom call? This is a possibility, and it's one that the experts at SkyNet can set into motion for you.
Or maybe you'd like a picture to be taken every time someone passes through your turnstile? Again, this feature can be incorporated.
The options are nearly endless here, so give us a call and see what we can do. Regardless of your needs and preferences, we can help you implement the perfect security system for your property.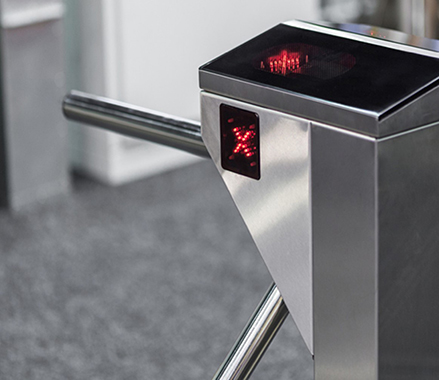 Keep Your People,
Property and Assets
Safe and Secure
The Benefits of Turnstile Systems
Turnstile access control systems offer several benefits. Some of the main benefits of turnstile systems in Chicago include the following:
Can Be Implemented with a Variety of Access Systems

Turnstile systems can be implemented in correspondence with everything from ID readers to keypads to FOBs and more. Regardless of your security demands, you can incorporate a turnstile system to ramp up security even further.

Provide Physical Security

A turnstile is a physical entity that literally blocks a person from freely passing through. By installing a turnstile system, you'll provide your property with additional physical security.

Help to Control Crowds

It's not always easy to control large crowds at an event. However, with a turnstile system on your side, you can go a long way in keeping crowds in order. This improves crowd management as well as safety.
Are You Ready to Install a Turnstile Access Control System in Chicago?
If you're ready to implement a turnstile access control system at your property in Chicago, we here at Skynet Security Systems are the people to call. We have installed turnstiles in several commercial spaces throughout Chicago, helping to increase their security and crowd control capabilities.
Offering a variety of turnstile systems in several sizes, we're sure to have something that's right for your space. Contact Us today to discuss your options.
Related News & Insights
The latest Access Control news from Skynet Security