Security System Integration in Chicago, Illinois
At SkyNet Security Systems, we are well-versed when it comes to installing structured cabling systems.
There are all sorts of security measures that you can implement for your business today. Even installing just one system can be effective for monitoring and controlling your property. However, if you want the most powerful and effective security system possible, you'll want to integrate multiple systems into one.
By bringing together multiple security systems, you can form a security system that thrives on all fronts. Not only will you be able to see those who enter your property, but you can even speak to intruders and deter them from breaking in.
At SkyNet Security Systems, we are well-versed in the implementation of integrated security systems. Our team has established integrated security systems all throughout Chicago and the Chicagoland suburbs, and we can do the same for your property as well.
We are leaders in access control, video security, and intrusion detection—and we have years of experience in bringing these all together into seamlessly integrated, converged solutions for our customers.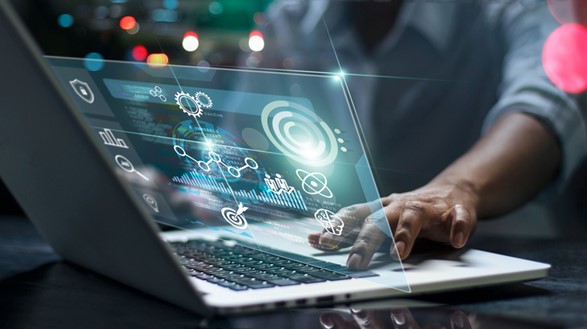 Keep Your People,
Property and Assets
Safe and Secure
All Kinds of Security Systems to Integrate
There is no shortage of security systems available for you to integrate into your security system. These include (but aren't limited to) the following:
Access Control Systems
Access control systems can provide or restrict access to an individual based on whether they have appropriate credentials. These systems help to keep buildings safe by ensuring that unauthorized individuals aren't allowed in. There are several different types of access control systems available. Contact us today for more information on each.
Alarm Systems
As a means of scaring off potential intruders, it's generally a good idea to equip a building with an alarm system. This way, when a window or door is broken, the alarm will sound, and both the owner of the building and the authorities will be notified.
Surveillance Cameras
A surveillance camera can act as your ever-seeing eye. It can catch nefarious behavior and illicit activity, allowing you to take action against those who have caused damage to your property.
Intercom Systems
In certain situations, it's appropriate for visitors of a building to speak with someone inside. For instance, a visitor might have to be buzzed into an office or apartment building. If this is the case with your building, you should consider installing an intercom system. An intercom system allows for two-way communication, and they can work in tandem with all other security entities.
Contact the Security System Integration Specialists in Chicago, Illinois
At SkyNet Security Systems, we can handle all aspects of your security system implementation. Our skilled and experienced team is well-versed when it comes to setting up integrated security systems, and we can work with buildings of all kinds and sizes.
We offer assessments on-site, ensuring that you get the perfect security system for your building. Catering to all budgets and timetables, we're here to accommodate you and your business.
Whether you own a small office building, a large warehouse, or something in between, our integrated security services can be extremely beneficial. Regardless of the type of system you're looking to implement, our security specialists can get it setup correctly.
Contact us today to schedule a free on-site assessment.
Related News & Insights
The latest Alarms & Monitoring news from Skynet Security