Elevator Telephone Monitoring Services
As you may know, elevators contain an emergency phone. This way, if anything were to go wrong with the elevator, the people inside it would be able to call the authorities for help.
As you may know, elevators contain an emergency phone. This way, if anything were to go wrong with the elevator, the people inside it would be able to call the authorities for help. It doesn't matter whether it's an apartment building, a hotel, an office plaza, or otherwise — if it contains elevators, then elevator telephone monitoring services are a must.
Of course, an elevator can break down at any time of day. As such, there constantly needs to be someone on the other end of the phone that can send the necessary help.
Unfortunately, property manages don't have time to sit by the phone 24/7. Fortunately, however, we have a team of professionals that can take care of this by monitoring your elevator phone for you. If you're looking for elevator telephone monitoring services in Chicago or the Chicagoland area, SkyNet Security Systems is the company to call.
We are leaders in access control, video security, and intrusion detection—and we have years of experience in bringing these all together into seamlessly integrated, converged solutions for our customers.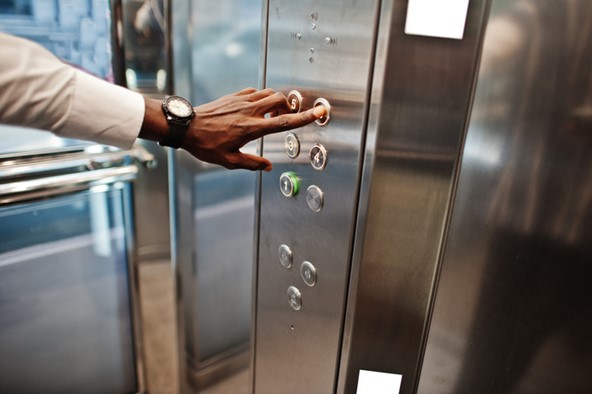 Keep Your People,
Property and Assets
Safe and Secure
Elevator Telephone Installation
We offer a wide variety of emergency phone solutions for elevators. These include both volP phones and cellular phones, which each have their own set of benefits. If you're looking to install a new emergency phone in your elevator in the Chicagoland area, we are the people to call. Our team can inspect your elevator and implement the solution that works best for your building.
24/7 Monitoring
The whole point of an emergency elevator telephone is to let occupants of the elevator make calls for help if the elevator were to break down. As such, it's important for the telephone to be monitored 24/7. We provide 24/7 monitoring, and our team will be available for correspondence regardless of what time the call is made.
There are several benefits that come with 24/7 elevator phone monitoring. For one, it ensures that repair technicians can get to the problem as soon as possible, minimizing structural, electronic, and mechanical damage. In addition, it ensures that the occupants of the elevator will be stuck for as little time as possible, thereby helping property owners avoid legal consequences. Finally, it reduces the risk of accidents occurring, which helps make your property as safe as possible.
Elevator Telephone Compliance Assessments
Not only can we install and monitor emergency phones for you on your elevators, but we can also assess them to ensure they meet compliance regulations. Our team is fully aware of the elevator laws in Illinois, and we know exactly what to look for to determine the efficacy of an emergency phone system.
We can help you establish the most efficient and effective emergency telephone system possible for your elevator, helping you save time and money in the future.
Looking for Elevator Telephone Monitoring Services in Chicago or the Chicagoland Area?
Do you need someone to help monitor your elevator telephones? If so and if you're located in Chicago or the Chicagoland area, look no further than SkyNet Security Systems.
Our team is well-versed in all aspects of installing and monitoring elevator telephones. With us on your side, you're guaranteed to meet all elevator compliance laws. Contact us today to discuss your needs.
Related News & Insights
The latest Alarms & Monitoring news from Skynet Security