Outdoor Security Cameras
Skynet Security Systems supply and install a wide variety of outdoor security cameras in Chicago and the Chicagoland area.
Whether it's an office, a warehouse, or a retail space, the security and protection of your property should be a high priority. Locks can go a long way in providing this. However, they shouldn't be the entire equation. You should supplement your security system with outdoor security cameras.
Outdoor security cameras not only allow you to monitor what's happening outside and around a property, but they also help to scare off potential intruders, reducing the risk of break-ins, theft, and vandalism.
At Skynet Security Systems, we supply and install a wide variety of outdoor security cameras in Chicago and the Chicagoland area. We can design the perfect camera security system for your property, then take action to make it a reality.
We are leaders in access control, video security, and intrusion detection—and we have years of experience in bringing these all together into seamlessly integrated, converged solutions for our customers.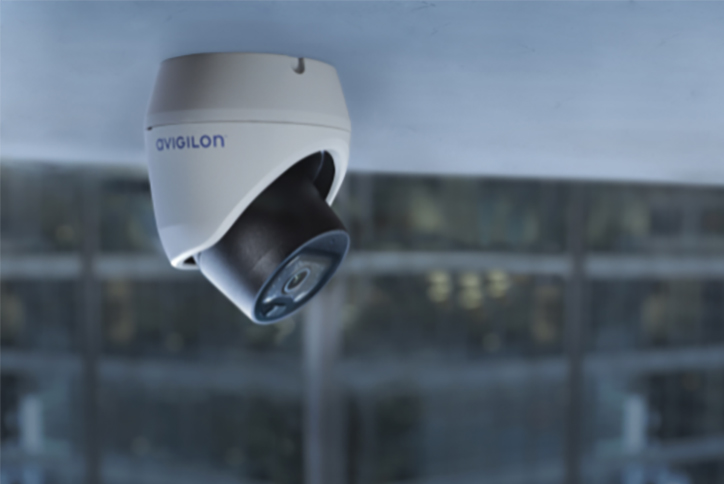 Keep Your People,
Property and Assets
Safe and Secure
Outdoor Security Cameras with a Variety of Features
Modern outdoor security cameras offer a variety of useful features. These features include (but aren't limited to) the following:
High Resolution Video
Modern security cameras are designed to produce the best picture possible — from 1080p to 4k resolution and everything in between. There's no reason to deal with grainy, black-and-white surveillance footage anymore. Installing a modern outdoor security camera at your property will allow you to see everything with clarity and detail.
Remote Functionality
Do you want to control your security cameras from any location? With modern, remote technology, this can be done. Not only will this technology allow you to change the positioning of your cameras, but you can zoom your cameras in and out as well.
Battery-Powered Capabilities
In the past, to install an outdoor security camera, you needed to hook it up to an electrical power source. That's no longer necessary. Some modern outdoor security cameras use rechargeable battery packs that can record for long periods of time.
Smartphone Viewing
Wouldn't it be nice if you could see your security camera footage from anywhere? Modern outdoor security cameras allow for this — they can provide a live stream to smartphones and personal computers. As such, whether you're in the office, at home, or on vacation, you can have a clear view over your property.
Beneficial for All Kinds of Properties
Outdoor security cameras are beneficial for a variety of different properties. These vary from apartment complexes to warehouses to construction sites to hotels to restaurants to medical facilities and more.
Regardless of the type of property you manage, if you're ready to install outdoor security cameras, our team can help you design and implement the right system.
Looking to Install Outdoor Security Cameras in Chicago, Illinois?
If the security and safety of your property is important to you, you should consider installing outdoor security cameras. A security camera system at your property in Chicago can be your ever-seeing eye, allowing you to monitor every person who passes your property.
SkyNet offers a wide variety of outdoor security cameras to choose from. Contact us today to discuss your options, or to schedule a free consultation.
Contact us today to schedule a free on-site assessment.
Related News & Insights
The latest Alarms & Monitoring news from Skynet Security